Have you received a letter from your local power distributor?
Often these letters are asking you to prune vegetation around your service wire to your house. The power company will clear the vegetation around the power lines, but not private service wires.
If you need the brances pruned around your service wire, and you live in:
Monbulk
Emerald
Cockatoo
Olinda
Sassafras
Mount Dandenong
Kallista
The Patch
Menzies Creek
Ferny Creek
Sherbrooke
Then Sherbrooke Tree Service can help you! Sherbrooke Tree Service has been pruning around service wires for over 35 years.
We are qualified and experienced. We are an SP Ausnet contractor for the east of Victoria, and are regularly called to remove dangerous trees and hazards trees.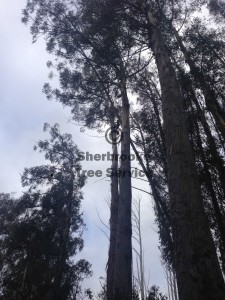 The picture above is of a dead tree overhanging 22kv, we climbed up and stabilised the tree and removed the tree.
Power company letters vegetation clearance